World Hello Day
Post a Hello Peace message on social sites with a #WorldHelloDay tag
Busy Moms, people who work at two jobs and other busy people may appreciate this holiday. You can participate in the international worldwide holiday easily by saying hello. World Hello Day is an international holiday celebrated on November 21st every year. World Hello Day was started to promote peace with communication. It should be easy for you to participate in World Hello Day by saying hello to ten people. You could also send a greeting card, a postcard or post a Hello message on Social Media to participate in World Hello Day. You know a lot of ecards have Hello on them. World Hello Day rates 2 Giftys on Giftypedia.
World Hello Day is a holiday with its own website. The World Hello Day website is at www.WorldHelloDay.org.
This World Hello Day post has Hello in other languages, links to the World Hello Day website, A Big Hello World Hello Day Ecard, a Celebrate World Hello Day Coffee Mug, a Tree Of Life Peace On Earth poster, Free Click Donations TheNonProfits site and the holiday on holiday websites.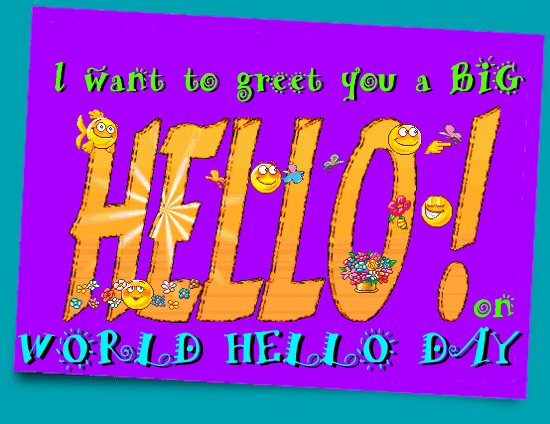 A Big Hello World Hello Day Ecard
World Hello Day On Giftypedia
www.Giftypedia.com/World_Hello_Day
World Hello Day On Days Of The Year
www.DaysOfTheYear.com/days/world-hello-day/
World Hello Day On Time And Date
www.TimeAndDate.com/holidays/fun/world-hello-day
World Hello Day November 21st Coffee Mug
World Hello Day November 21st Coffee Mug
Celebrate World Hello Day Mug
Tree Of Life Peace On Earth 2 Poster
Tree Of Life Peace On Earth 2 Poster
Tree Of Life Peace On Earth 2 Poster
Free Click Donations Website
This Non Profits website has links to many charities and causes you can support by making free click donations. It is very easy to do. You click the site, click to support the site and the cause or charity gets a free donation. You can give free click donations to many causes at this website.
www.TheNonProfits.com

Click To Make Free Donations To Many Causes
www.TheNonProfits.com