This post features:
The Summer Superfood Your Skincare Routine Is Missing article by Elena Goudelias on the ReviewThis website. The Benefits Of Watermelon For Skin Video on YouTube. The Earth To Skin Watermelon Face Serum on Walmart. National Watermelon Day on holiday websites. Watermelon Fruit Slice candy on the Nuts website. Pretty Watermelon Hat on Poshmark.
Benefits Of Watermelon For Skin Video

The Summer Superfood Your Skincare Routine Is Missing
The Summer Superfood Your Skincare Routine is Missing
Watermelon helps slow down the aging process while promoting radiant skin.
By Elena Goudelias
March 31, 2020
Splash Into Summer With This Key Skincare Ingredient
Summer typically calls to mind sandy beaches, glorious weather, and long vacations. At some point during your last vacation or trip to the beach, you probably indulged in some fresh seasonal fruit, whether it was a bowl of juicy strawberries or a refreshing peach. Summer fruits are abundant, but one of the most quintessential fruits of the season is watermelon. This underrated superfood provides numerous benefits for your overall health and well-being, such as keeping you hydrated, protecting you from inflammation, and improving your cardiovascular health.
However, a little-known benefit of watermelon is that it plays a critical role in minimizing the signs of aging on your skin. By including more watermelon in your diet and using skincare products that are infused with this essential fruit, you can do wonders for your skin.
The Role Of Watermelon In Skin Health
Watermelon has a slew of positive effects on the health and appearance of your skin. The fruit is primarily known for its hydrating properties, which contribute to a moisturized and supple complexion. In addition, the chemical composition of watermelon is designed to minimize the tissues in your body, which is vital to keeping your skin refreshed. This means that watermelon behaves in a way that is very similar to the best toner for the face.
If you struggle with acne, you can also turn to watermelon for clearer skin. Vitamin A, which is found in abundance in watermelon, is vital to controlling the secretion of oils and shrinking the size of your pores, leading to a blemish-free complexion.
Can Watermelon Help Slow Down The Aging Process?
One of the most promising benefits of watermelon is its ability to reverse the effects of aging on your skin. This is mainly due to the antioxidants in watermelon, which are powerful chemicals that boost immunity and reduce the damage caused by free radicals. To enhance these incredible effects, watermelon also promotes the growth of collagen, which is a vital protein that helps improve the appearance of wrinkles and fine lines while promoting more hydrated skin.
To get the most out of watermelon, be sure to look for skincare staples that contain this superfruit. Plenty of beauty brands have concocted face washes, moisturizers, and even sleeping masks that allow consumers to experience the healing power of watermelon. No matter which product you choose, be sure to keep your personal needs in mind to ensure that summer's favorite fruit keeps your complexion supple, moist, and radiant.
Resources— Business Insider, Men's Health, Faith in Nature
About The Author
I am a writer based in New York City. My primary focus is writing product reviews and SEO articles, and I run a blog about self-improvement, lifestyle and personal goals. I studied modern languages and linguistics in college.
More About Elena Goudelias
This juicy watermelon article was found on the ReviewThis website at www.ReviewThis.com/summer-superfood-skincare-routine/
ReviewThis is looking for writers. You can read about what they are interested in and apply today on the website with this link.
www.ReviewThis.com/contributor/
This content contains some affiliate links. If you click on a link and purchase I will receive a commission without any extra cost to you.
Earth To Skin Watermelon Face Serum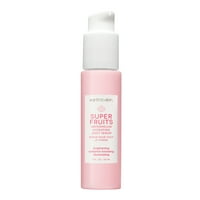 Experience the sensation of Super Fruits Watermelon All Over Serum that instantly hydrates and refreshes face, neck and the delicate eye area. Brimming with Watermelon Fruit Extract, formula delivers a boost of Vitamin C, Vitamin B6 and a rush of anti-oxidants; all known to brighten the complexion. Glycerin, a humectant, helps to draws in water, replenish and retain moisture for hours adding to the healthy glow. Directions: On freshly cleaned skin, apply a few drops to palm of hands and gently press onto face, around eyes and neck. For best results, use daily. Tip: follow up with your favorite Earth to Skin Moisturizer. Brightening, Radiance Boosting, Illuminating
Indications: Skin Care Concern: Dryness
Ingredients:
Active Ingredients: Water ((Aqua) Eau), Glycerin, Butylene Glycol, Pentaerythrityl Tetraethylhexanoate, Bis-PEG-18 Methyl Ether Dimethyl Silane, Isononyl Isononanoate, Citrullus Lanatus (Watermelon) Fruit Extract, Saccharomyces/Xylinum/Black Tea (Kombucha) Ferment, Phenoxyethanol, Tromethamine, Acrylates/C10-30 Alkyl Acrylate Crosspolymer, Ethylhexylglycerin, Ammonium Acryloyldimethyltaurate/VP Copolymer, Dimethicone, Phenyl Trimethicone, Fragrance(Parfum), BHT, Hydroxyethylcellulose, Red 40 (CI 16035), Leuconostoc/Radish Root Ferment Filtrate, Potassium Sorbate
Earth To Skin Watermelon Face Serum On Walmart
National Watermelon Day August 3rd
If you want to celebrate the mighty watermelon, you can celebrate watermelons on National Watermelon Day. Watermelon Day is celebrated on August 3rd. You can read about Watermelon Day and see suggestions for celebrating Watermelon Day on these holiday websites. Watermelon Day has a 2 Gifty rating on the Giftypedia website.
Watermelon Day On Days Of The Year
www.DaysOfTheYear.com/days/watermelon-day
Watermelon Day On Giftypedia
www.Giftypedia.com/Watermelon_Day
National Watermelon Day On NationalToday
www.NationalToday.com/national-watermelon-day/
Watermelon Fruit Slice Candy On The Nuts Website

The classic old time candy in a mouth watering watermelon flavor. The Watermelon Fruit Slice Candy has a 4.5 star rating on the Nuts website. The candy is $6.99 for a 1 pound bag. You can get automatic deliveries of this candy and save 5% on future orders. Click the image or the link to see more about the candy or to purchase.
Watermelon Fruit Slice Candy On The Nuts Website
Watermelon Hat On Poshmark


This charming Misty Pearl Watermelon Hat is $21.00 on the Poshmark website. Click the image or the link to look at the hat on Poshmark or to purchase.
Watermelon Hat On Poshmark