S'Mores Day 2020 Deals
S'Mores Day is celebrated on August 10th every year. S'Mores Day is a celebration of the tasty campfire treat S'Mores. S'Mores are made by putting chocolate and marshmallows between graham crackers and heating them. The heat melts the chocolate and marshmallows. Sometimes the marshmallows may be put on top of the graham crackers or marshmallow creme can be put on the chocolate. S'Mores Day has a 3 Gifty rating on Giftypedia which means people may be giving gifts or sending cards. The gifts may be S'Mores. This post has links to S'Mores baby t-shirts, S'Mores Day tank tops, a S'Mores Day Deals article, S'Mores Day on holiday websites, S'Mores Lovers Gift Ideas, Squishy Slow Rise S'Mores Toys, Two S'Mores Recipe Books, a Grilled Chocolate Chip S'More Pizza Recipe, Mattel Barbie Sisters Camping Fun Tamika Dolls, kids activity websites and Zazzle Gifts. Post about this S'Mores holiday on social sites with #SMoresDay hashtags.
Funny SMores Characters Cartoon Baby T-Shirt
Funny SMores Characters Cartoon Baby T-Shirt
Awesome cute fun SMores characters holding hands ready for camping and roasting by the campfire. Silly and unique. This cotton tee is soft enough for even the most sensitive skin. Click the image or the link for more information or to purchase.
Funny SMores Characters Cartoon Baby T-Shirt
National S'Mores Day Holiday For Campers Tank Top
Celebrate National S'Mores Day. The campers holiday! Cute s'more's treat tank top.
Celebrate National S'Mores Day Tank Top
This Newsweek Article Has S'Mores Day Deals
www.Newsweek.com/national-smores-day-2020-deals-recipes-1523653
You can also see some S'Mores Recipes Plus A Chocolate Chip Cookie S'Mores recipe with Hershey's chocolate bars and a roasted marshmallow between two chocolate chip cookies in the article. Click a link to see the article on Newsweek.
S'Mores Day Deals & Recipes
You can get S'Mores Chocolate Marshmallow Balls on the Nuts website.

S'Mores $9.99 Lb
The S'Mores are a fabulous treat that you can enjoy anytime without a campfire. Soft and fluffy marshmallows coated in luscious milk chocolate then rolled into crumbled graham crackers. Light and crispy on the outside, sweet and tasty on the inside. Makes a fantastic gift or birthday party favor.
S'Mores $9.99 Lb
S'Mores Day On Holiday Websites
S'Mores Day On Days Of The Year
www.DaysOfTheYear.com/days/smores-day/
S'Mores Day On Giftypedia
www.Giftypedia.com/S%27mores_Day
National S'Mores Day On NationalDayCalendar
NationalDayCalendar.com/what-is-today/national-smores-day-august-10/
S'Mores Gift Ideas For S'Mores Lovers On OddityMall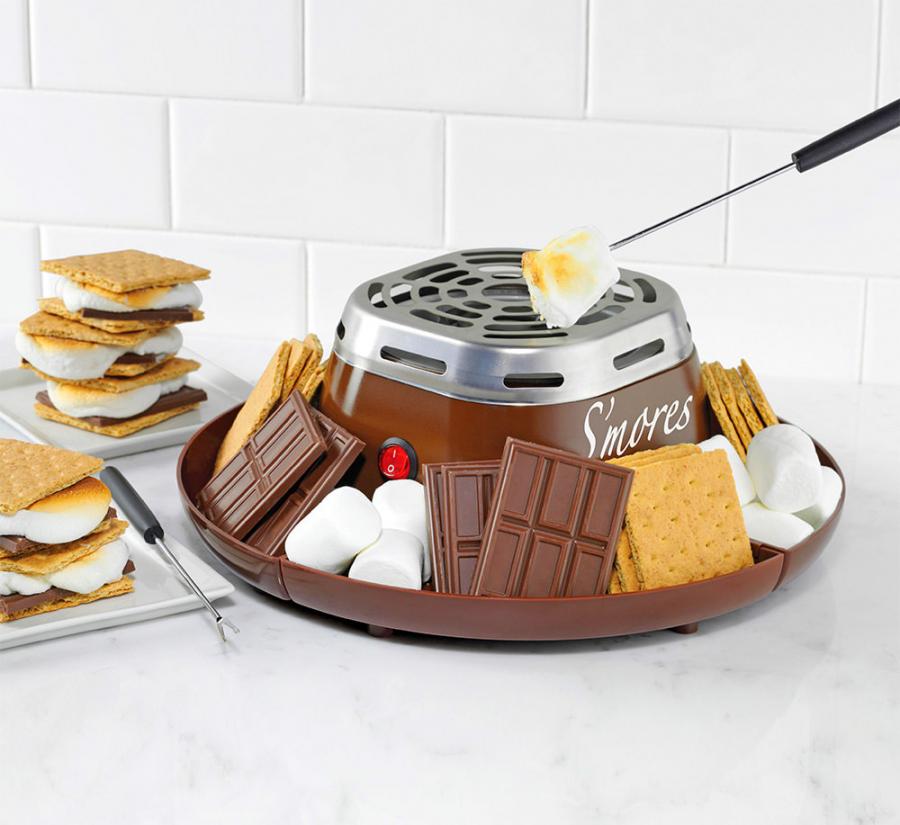 OddityMall has several gift ideas for S'Mores Lovers. Click the image or the link to see the gift ideas.
S'Mores Gift Ideas For S'Mores Lovers On OddityMall
Jumbo S'More Squishy Slow Rise Foam Camp Food Toy


These Jumbo S'More Squishy toys are Scented and have adorable cute faces. The squishy s'mores are 9″ tall and 9.75″ wide. This cute food toy is a slow rise foam squishy toy. When squeezed the super soft camp treat slowly returns to shape like memory foam.
Squishy Slow Rise Foam S'Mores Toy
S'Mores Gooey, Melty, Crunchy Riffs On The Campfire Classic Book $14.95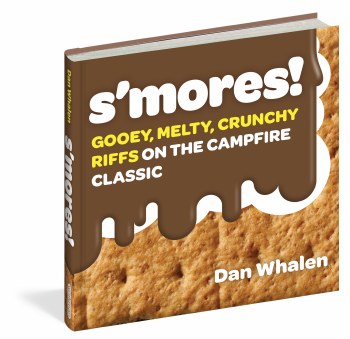 50 Irresistible S'Mores Recipes book by Dan Whalen. The book is $14.95 and is published by Workman Publishing.
50 S'Mores Recipes Book
The S'Mores Cookbook On Barnes & Noble

The S'Mores Cookbook: From S'Mores Stuffed French Toast To A S'Mores Cheesecake Recipe, Treat Yourself To S'More of Everything
Nook Book (eBook) $10.9
Who says you should be sitting in front of a fire to enjoy the irresistible taste of s'mores? Oozing with fifty mouthwatering recipes, The S'Mores Cookbook shows you how to indulge in the rich blend of creamy chocolate, toasted marshmallows and honeyed graham crackers at every meal. From Chocolate Graham Pancakes drizzled with a sweet marshmallow syrup to S'Mores Eclairs smothered in a dark chocolate ganache, this book combines your favorite trio of flavors in ways you've never imagined to create delicious plates that will impress friends and family. Featuring step-by-step instructions and enticing four-color photos, you're guaranteed to enjoy delicious s'mores recipes like:
Black Forest S'Mores
Crock-Pot S'Mores Brownies
No-Bake Oatmeal S'Mores Cookies
S'Mores Chocolate Bread Pudding
Toasted Marshmallow S'Mores Ice Cream
The S'mores Cookbook will satisfy your cravings for the gooey campfire treat all year long!
The S'Mores Cookbook On Barnes & Noble
Grilled Chocolate Chip S'More Pizza Recipe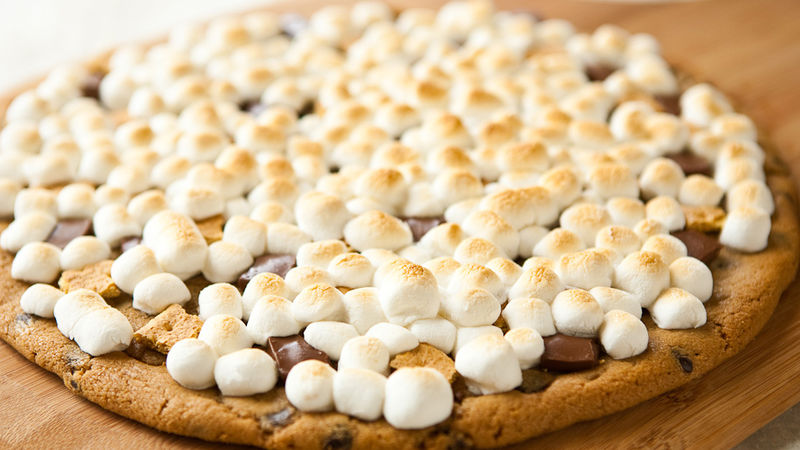 Do you like making s'mores? Then you'll love this cookie pizza! It's perfect for camping or a backyard barbecue. After grilling your dinner, leave the grill on to make dessert. To keep dough from sticking, roll between 2 sheets of cooking parchment paper. You can also see directions for making this pizza in the oven. Click the image or the link to see the S'More Pizza Recipe.
Grilled Chocolate Chip S'More Pizza Recipe
Mattel Barbie Sisters Camping Fun Tamika Doll S'Mores Fun

Tamika doll is ready for Camping Fun with her sisters. There's plenty of outdoor adventure, sisterly bonding, sing-alongs and s'mores. Always prepared, Tamika doll has her own fixings to play out her favorite camping activity — making s'mores by the campfire. The stick with a marshmallow and a partially unwrapped pretend chocolate bar that fit on the doll's hands for fun. Tamika doll looks adorable dressed in a tank top with squirrel decal and purple shorts with a colorful arrow pattern perfect for a camping trip. Pink sneakers and a blue hairband with bow complete the look. Collect all of the Barbie sisters camping dolls and accessories to play out all kinds of outdoor fun (each sold separately, subject to availability). Includes Tamika doll wearing fashions and accessories with marshmallow stick and pretend chocolate bar.
Features :
Made to fit 18 Inch dolls such as American Girl, Madame Alexander, Our Generation, etc.
High quality beautiful painted wooden product – CPSIA safety tested.
Gorgeous Pink Armoire closet with pink and white star details.
Storage Unit comes with 5 hangers.
Mattel Barbie Sisters Camping Fun Tamika Doll S'Mores Fun
Holiday Activities, Crafts, Learning Websites
These websites have activities, crafts and learning materials about many subjects. The sites may have activities and information about S'Mores Day and other holidays.
Activities For Children
www.AllFreeKidsCrafts.com
www.FunFamilyCrafts.com
www.KidActivities.net
www.PlayIdeas.com
Educational Themes
www.EdHelper.com
www.EducationWorld.com
Poetry For Kids
www.PoetryAw.net
Animated Educational Videos For Kids
www.BrainPop.com
S'Mores Gifts, School Gifts, Holiday Gifts, Leo Gifts, Virgo Gifts and August Gifts On Zazzle
Zazzle has lots of fun gifts to help you celebrate holidays. You can send balloons, cookies, brownies, candy and other gifts to people from Zazzle. Zazzle has many kinds of mugs, beer steins and commuter cups. You can buy t-shirts, hoodies, leggings and hats. You can get phone cases and mouse pads. You can get watches, clocks and lamps. You can add photos and other images and text to create unique personalized gifts.
S'Mores Gifts On Zazzle
School Gifts On Zazzle
Stationery Gifts On Zazzle
Writing Gifts On Zazzle
Cards On Zazzle
Baby Gifts On Zazzle
Holiday Gifts On Zazzle
Leo Gifts On Zazzle
Virgo Gifts On Zazzle
August Gifts On Zazzle
Candy Gifts On Zazzle
Chocolate Gifts On Zazzle
Cookie Gifts On Zazzle
Free Click Donations Website
This Non Profits website has links to many charities and causes you can support by making free click donations. It is very easy to do. You click the site, click to support the site and the cause or charity gets a free donation. You can give free click donations to many causes at this website.
www.TheNonProfits.com
Click To Make Free Donations To Many Causes
www.TheNonProfits.com
Fun Free Shipping On Orders Over $65

Daily Sale The Best Deals On The Internet Save As Much As 90% On Apparel