The Most Practical Gifts For Graduates Article
May 18, 2022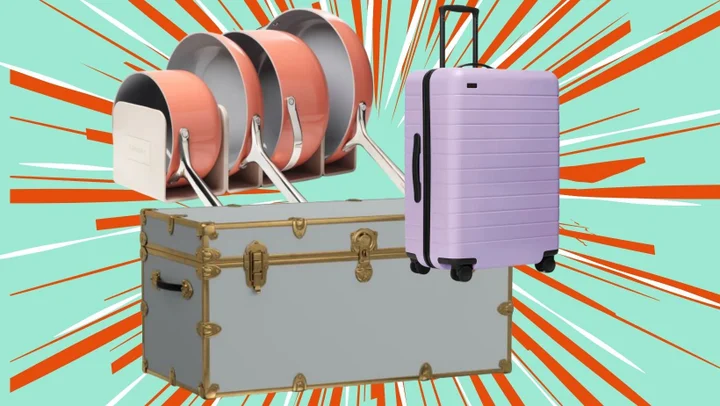 This is an article about practical gifts for graduates by Tessa Flores on HuffPost. The article describes practical gifts for high school graduates and college graduates. Some of the gifts suggested are suitcases, frames for diplomas, pot and pan sets, tool kits, storage containers and gift cards for clothing. One of the recommended gifts is a glass mug for college alumni. A personalized or customized college alumni glass mug is suggested for college graduates. Click the image or the link to see the article on the HuffPost website.
The Most Practical Gifts For Graduates Article On HuffPost
Class Of 2022 Silver Navy Blue Glitter Graduate Napkins
Graduation Class of 2022 Party Silver and Navy Blue Faux Foil Metallic Sparkle Glitter Brushed Metal Monogram Name High School or College Graduate Paper Party Napkins.
Class Of 2022 Silver Navy Blue Glitter Graduate Napkins
A good celebration is as much about the presentation as it is about food. Serve the party with custom personalized paper napkins that look good tucked in the collar or draped over your lap. The napkins are printed in full color on your choice of white, ecru, pink or silver colored napkins The napkins are food contact safe. These napkins are on the Zazzle website. Click the napkin image or the link for more information or to purchase.
Class Of 2022 Silver Navy Blue Glitter Graduate Napkins On Zazzle
Congratulations To The Graduate Large Photo Balloon
Congratulate and celebrate your grad with this personalized design that has your grad's photo and the words "Congratulations To The Graduate" in modern typography on the balloon. A uniquely personal touch to any tabletop decor, flower bouquet or centerpiece, these custom balloons are pretty and decorative. You can easily blow the balloon up with the provided stick. The balloons are self-sealing and reusable. The balloons are shipped flat and can be deflated and re-inflated at any time. The all-over-print allows for the design to be on the entire surface. Click the balloon image or the link for more information or to purchase.
Congratulations To The Graduate Large Photo Balloon On Zazzle