Pecan Pie Cookie Recipes
National Pecan Pie Day is celebrated every year on July 12th. Pecan Pie day is a day people honor the popular pecan pie dessert. This post also honors pecan pie with pecan pie cookie recipes. This post has links to several Pecan Pie Cookie Recipes. You can see a How To Make Pecan Pie Cookies Recipe Video from AllRecipes. There are links to the Pecan Pie Cookie Recipes on AllRecipes, BettyCrocker, LandOLakes, Delish, Food and CookNourishBliss. You can also look at children's activity websites and Zazzle Gifts with links in this post. National Pecan Pie Day rates 3 Giftys on Giftypedia. Post about the holiday on social sites with #PecanPieDay or #NationalPecanPieDay hashtags.
You can begin by viewing the How to Make Pecan Pie Cookies Video on the AllRecipes YouTube Channel.
How to Make Pecan Pie Cookies Cookie Recipes AllRecipes.com

Do you love pecan pie? You'll love these portable, buttery and sweet treats infused with sugary pecan goodness contained inside a yummy buttery cookie. Press a rich brown sugar and vanilla cookie dough into muffin tins then fill with the mixture of melted butter, confectioners' sugar, corn syrup and chopped pecans. Preheat the oven to 350 degrees. Bake the cookies until they are golden. The Pecan Pie Cookies are dusted with confectioners' sugar.
The Pecan Pie Cookies Recipes is also on the AllRecipes website at www.AllRecipes.com/recipe/212863/pecan-pie-cookies/.
Pecan Pie Cookie Recipe On Betty Crocker


This Pecan Pie Cookie Recipe uses 1 pouch (17.5 oz) of Betty Crocker™sugar cookie mix. You will be baking the cookies in 24 muffin cups. The pecan filling will be put in a thumbprint in the cookie. You bake the cookies and bake them again after you add the pecan pie filling. Click the image or the link to see the recipe.
Pecan Pie Cookie Recipe On Betty Crocker
Pecan Pie Cookie Recipe On LandOLakes


This LandOLakes Pecan Pie Cookie recipe is recommended for holiday cookie gifts. You get all the rich flavors of pecan pie in a bite size cookie.
Pecan Pie Cookie Recipe On LandOLakes
Pecan Pie Thumbprints Recipe On Delish


These cookies are drizzled with caramel before serving.
Pecan Pie Thumbprints Recipe On Delish
Pecan Pie Cookies Recipe On Food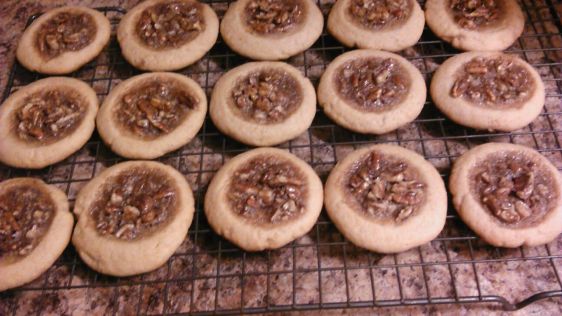 This recipe makes 36 cookies. The Contributor @flower7 stated that the recipe came from the inside of a LandOLakes butter package.
Pecan Pie Cookies Recipe On Food
Salted Pecan Pie Cookie Bars


This Salted Pecan Pie Cookie Bar recipe from CookNourishBliss is vegetarian and soy free. The cookie bars have a buttery and soft delicious crust, a gooey, caramelly center filled with nutty goodness and a sprinkle of sea salt for that always amazing salty/sweet combination.
Salted Pecan Pie Cookie Bars Recipe On CookNourishBliss
National Pecan Pie Day On Days Of The Year
www.DaysOfTheYear.com/days/pecan-pie-day/
National Pecan Pie Day On Giftypedia
www.Giftypedia.com/National_Pecan_Pie_Day
National Pecan Pie Day On HappyDays365
HappyDays365.org/pecan-pie-day/national-pecan-pie-day-july-12/
Holiday Activities, Crafts, Learning Websites
These websites have activities, crafts and learning materials about many subjects. The sites may have activities and information about nuts, pies, Pecan Pie Day and other holidays.
Activities For Children
www.AllFreeKidsCrafts.com
www.FunFamilyCrafts.com
www.KidActivities.net
www.PlayIdeas.com
Educational Themes
www.EdHelper.com
www.EducationWorld.com
Poetry For Kids
www.PoetryAw.net
Animated Educational Videos For Kids
www.BrainPop.com
Pecan Pie Day Gifts, Pecan Gifts, Holiday Gifts, Gemini Gifts, Cancer Gifts and June Gifts On Zazzle
Zazzle has lots of fun gifts to help you celebrate holidays. You can send balloons, cookies and candy and other gifts to people from Zazzle. Zazzle has many kinds of mugs, beer steins and commuter cups. You can buy t-shirts, hoodies, leggings and hats. You can get phone cases and mouse pads. You can get watches, clocks and lamps. You can add photos and other images and text to create unique personalized gifts.
Pecan Pie Day Gifts On Zazzle
Pecan Gifts On Zazzle
Stationery Gifts On Zazzle
Writing Gifts On Zazzle
Cards On Zazzle
Baby Gifts On Zazzle
Holiday Gifts On Zazzle
Cancer Gifts On Zazzle
Leo Gifts On Zazzle
July Gifts On Zazzle
Jewelry Gifts On Zazzle
Shirt Gifts On Zazzle
Candy Gifts On Zazzle
Chocolate Gifts On Zazzle
Cookie Gifts On Zazzle
Hat Gifts On Zazzle
Free Click Donations Website
This Non Profits website has links to many charities and causes you can support by making free click donations. It is very easy to do. You click the site, click to support the site and the cause or charity gets a free donation. You can give free click donations to many causes at this website.
www.TheNonProfits.com
Click To Make Free Donations To Many Causes
www.TheNonProfits.com
Donate With PayPal To Help Support The GiftsNDays Website
Please click the link to make a PayPal donation to support the GiftsNDays website.
Donate With PayPal To Help Support GiftsNDays
This content contains affiliate links. That means if you click a link and purchase I may get a commission without any extra cost to you. Thank you.
Daily Sale The Best Deals On The Internet Save As Much As 90% On Apparel

Fun Free Shipping On Orders Over $65

#PecanPieDay
#pecanpiecookierecipes
#PecanPieCookies
#July12