Looking For A Christmas Tree Poster For Look For An Evergreen Day
Look For An Evergreen Day is celebrated on December 19th every year. People may be looking for Christmas trees. This post contains an art poster involving reminiscing about looking for a Christmas tree. People sometimes venture into the woods to find an evergreen to be their Christmas tree. This poster is a nostalgic Christmas tree search poster with a Christmas tree in the snow that looks decorated with red ornaments and a star. However there is something mystical or vague about the picture, the snow and the purple background. Shiny red Christmas ornaments decorate the top and bottom of the poster. This is a link to the poster and you can see more about the Christmas tree poster below. Looking For A Christmas Tree Poster On Zazzle
Looking For A Christmas Tree Poster $11.24 20% Off With Code SHOPHAPPYZAZ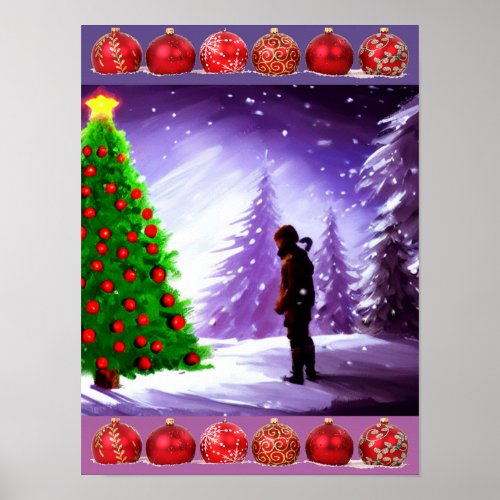 The poster image shows a person and a Christmas tree outside in the snow. Shiny red Christmas decorations are above and below that image. This is a sentimental design reminding people of how they envision a Christmas tree already decorated with a star on top when they are looking for Christmas trees. This is both a Christmas and a December poster about searching for a Christmas tree. This poster would be good for the Look For An Evergreen holiday on December 19th. This purple and red Christmas poster was partially created with AI on Canva. If you order this Christmas tree poster today you will get it by Dec 21 – 30. The original price was $14.05 for a 12″ by 16″ poster. Click the Christmas tree poster image or the link to see more information or to buy a poster.
Looking For A Christmas Tree Poster On Zazzle
We Got It, Mom We Got The Tree Jigsaw Puzzle On Jigsaw Planet

This is a family Christmas scene puzzle about bringing a Christmas tree home. The puzzle can be put together on the Jigsaw Planet website. You can hear the puzzle pieces snap together. After you finish the puzzle you can share it on Facebook and Twitter. This puzzle could be a holiday activity for Look For An Evergreen Day on December 19th. Click the puzzle image or the link to see the puzzle on Jigsaw Planet.
We Got It, Mom We Got The Tree Jigsaw Puzzle On Jigsaw Planet
Looking For A Christmas Tree Poster 20% Off
This Looking For A Christmas Tree Poster is a gallery quality Giclee print. The print is ideal for vibrant artwork and photo reproduction. The poster has a matte finish with a smooth surface. The posters are aAvailable in custom sizing up to 60". Custom framing options are available when the poster is added to your cart. Click the poster image or the link to see more information or to buy a poster.
Looking For A Christmas Tree Poster On Zazzle
JobShop Store On Zazzle
You can see more art, posters, gifts, holiday products in the JobShop Store on Zazzle. Click the link to see the JobShop Store.
The JobShop Store On Zazzle