Wooden Jigsaw Puzzles On Liberty Puzzles

Rocky Mountain Landscape
Classic wooden jigsaw puzzles, made with quarter-inch maple plywood & the finest archival paper & inks. No two pieces are alike! A unique gift for all ages! See what people are saying through Google, Yelp and Facebook reviews.
Picasso's Studio By Damian Elwes

Liberty Puzzles Offers A Puzzle A Month For Six Months Or A Year — The Liberty Puzzle Club!
There are different sizes of wooden puzzles and you can get custom made puzzles with a photograph. You can order small or large sized custom puzzles from Liberty Puzzles. You can search for puzzles online. You can also get gift certificates that can be printed and redeemed online.
Liberty Puzzle Club
Would you like to get or give Liberty Puzzles? Join their puzzle club!
You can get 1 large (standard size – $95 – $105) puzzle per month for 12 months for $1,100. That price includes the shipping which is an additional $120 value.
You could also get or give a large puzzle per month for six months. The price is $600 for six months (every other month for a year or six months straight). That price also includes shipping.
You may choose a surprise each time (usually one of their latest offerings), or you can choose a theme (like vintage posters) or you can choose them specifically. You can select the puzzle image on the box or no image on the box.
You could see more of the Liberty Puzzles in their print catalogs. Their Winter 2019 print catalog has been shipped. If you want to receive one and join their mailing list, contact them. You can contact them with the contact form at www.LibertyPuzzles.com/contact/. You should include your mailing address in the form to get a catalog. The Liberty Puzzles print catalog is sent out twice a year in May and November. The print catalog features 20-25 of their recent puzzle offerings. You can see all 650+ of the puzzles they offer on their website.
The Blantyre Wine Cellar


This Blantyre Wine Cellar Puzzle has 433 pieces. The puzzles are hand made.
Contact Form On Their Website
www.LibertyPuzzles.com/contact/
Liberty Puzzles Store In Pearl Street Mall
Liberty Puzzles has a retail store on the Pearl Street Mall in Boulder. The address is 1468 Pearl Street. The retail store is open Mon-Sat 10-8, and Sun 11-7. The store is closed on major holidays. The retail store phone number is (720) 502-6947.
Indoor Summer Garden By Jenny Wheatley

Mona Lisa Jigsaw Puzzle



Free Online Jigsaw Puzzles JigZone.com
Mona Lisa Free Online Jigsaw Puzzles
You may see thousands of pictures and puzzles at JigZone. The Mona Lisa, or La Gioconda. (La Joconde), is a 16th century oil painting created by Leonardo Da Vinci. There are many classic art puzzles on JigZone including the Mona Lisa.
JigZone Puzzles
www.JigZone.com/puzzles/
Jig Zone Holidays Puzzles
www.JigZone.com/gallery/Holidays
Leonardo Da Vinci's Mona Lisa Jigsaw Puzzle
20% Off With Code CARDSANDMORE
Leonardo Da Vinci's Mona Lisa Jigsaw Puzzle
20% Off With Code CARDSANDMORE
The Mona Lisa was painted during the Renaissance. The portrait depicts a woman whose facial expression is frequently described as enigmatic, with a slight smile, possibly indicating that the subject is hiding a secret. The Mona Lisa is a famous painting. The puzzle is an 11″ x 14″ puzzle with a Gift Box. There are 252 pieces in the puzzle.
Leonardo Da Vinci's Mona Lisa Jigsaw Puzzles On Zazzle
Leonardo Da Vinci Mona Lisa Puzzle On Zazzle 20% Off With Code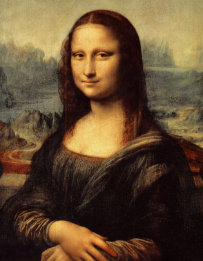 You can turn designs, photos, and text into a great game with customizable puzzles on Zazzle!
Leonardo Da Vinci's Mona Lisa Jigsaw Puzzles On Zazzle