Peculiar People Day
Save the Eagles Day
National Cut Your Energy Costs Day
Things That Happened On This Day January 10th

Peculiar People Day is celebrated on January 10th every year. This is a holiday for people who may seem different, or peculiar. This holiday honors those people who seem special or unique. On this day people can send a greeting card to a friend. Peculiar People Day has a 3 Gifty rating on the Giftypedia website. Post about this holiday on the Net with #PeculiarPeopleDay hashtags.
www.Giftypedia.com/Peculiar_People_Day
Peculiar People Day Greeting Card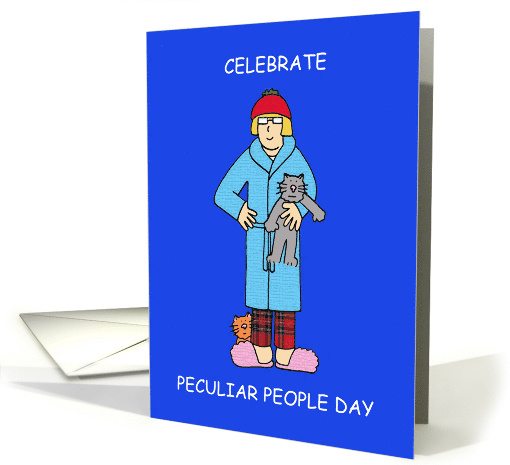 Thie Peculiar People Day card has a message inside. Click the card image or the link for more information.
Peculiar People Day Card On Greeting Card Universe
Save The Eagles Day is a holiday that is celebrated on the 10th of January every year. This is a day to increase awareness about eagles and to participate in and appreciate efforts to prevent their extinction. Save The Eagles Days has a 2 Gifty rating on Giftypedia.
www.Giftypedia.com/Save_the_Eagles_Day
Cut Your Energy Costs Day is celebrated on January 10th. You can reduce your bills, conserve energy and help the planet by improving how you do some things. You can see many methods to reduce your bills by clicking the Giftypedia link. Cut Your Energy Costs Day has a 2 Gifty rating on the Giftypedia website. Post about this reduce your energy holiday on the Internet with #CutYourEnergyCostsDay hashtags.
www.Giftypedia.com/National_Cut_Your_Energy_Costs_Day
Magnolia Paper Doll Kit Dolls Of Unusual Kind

Inside this paper doll kit you will find an assembled paper doll and 2 sheets of outfits that are fully perforated. All pieces and the paper doll can be stored in the enclosed envelope. Mini metal brads are used to assemble the doll and allow for playful movement. As you add new dolls to your collection, you can mix and match from each wardrobe, creating infinite new looks. The paper doll kit is made for ages 8 and older.
Paper Dolls Of Unusual Kind
Eagles Calendar 2022 World Wildlife Fund $7.99 Was $15.99 On Calendars.com

Did you know that The Bald Eagle isn't really bald? The name actually comes from an old English word, "balde," meaning white, which describes the eagle's white feathered head. You can look at the bald eagle with excellent photographs in the 2022 Eagles WWF Wall Calendar. Celebrate this American icon symbolizing strength and freedom in 2022 with this calendar. A large grid filled with moon phases and international holidays accompanies each vibrant photograph. This calendar is perfect as decor in your kitchen, home or office to easily keep track of appointments, important dates and special events. Each monthly spread makes it easy to see what is coming up and helps you stay organized during the year. Utilizing different colors for appointments, trips, and meetings, adding stickers or stickie notes for quick reference, or using different abbreviations and symbols make personalization easy! Click the link below to see the calendar on the Calendars.com website.
Eagles Calendar 2022 World Wildlife Fund On Calendars.com
Eagles Comics From GoComics

Peculiar Comics From GoComics

Similar Holidays
Be Kind To Animals Week
www.GiftsN Days.com/be-kind-to-animals-week/
World Environment Day
www.GiftsNDays.com/environment-day-june-5th/
Earth Day 2021
www.GiftsNDays.com/earth-day-2021/
Earth Day 2019
www.GiftsNDays.com/earth-day
Earth Day Comics
www.GiftsNDays.com/earth-day-comics/
Reduce Energy Comics From GoComics