Holiday Snacks & Treats Recipes
These Christmas and Holiday Snacks & Treats Recipes were selected for you because people would like them, they are tasty, trendy foods and they are easy to make. The recipes don't require many ingredients. The first two recipes for Easy Christmas Snowballs – Pecan Balls and No Bake Mini Cheesecakes don't have to be cooked. You can see the treats being prepared in the helpful YouTube videos, and you can see the ingredients and instructions on their websites. The treats are also finger foods that are easy to eat, very appropriate for holiday get togethers and family holiday snacks. The treats will also be easy to display in an arrangement that is pleasing and attractive. The Christmas Snowballs will look great on a plate or stacked for Christmas treats. They also have a pleasant holiday aroma. The No Bake Mini Cheesecakes look very festive and appealing with their Strawberry Topping. The Mini Pizza Bites are very convenient easy to pick up and hold miniature pizzas. That they are made with tortillas shaped by the muffin pan means they are less likely to be soft or mushy, but they will hold their shape and the tasty pizza ingredients. These Christmas and Holiday Treats may become family traditions in your homes because of their appeal, their taste, their trendiness and ease of preparation. Who wouldn't want a Christmas Snowball Pecan Ball Cookie or Mini Strawberry Topping Cheesecake or Mini Pizza Bite made with a tortilla — especially at Christmastime or other holiday celebrations? Plus these creations would make great gifts at Christmas or to give to guests.
Easy Christmas Snowballs – Pecan Balls – So Easy, Anyone Can Make These
Jenny Can Cook

Ingredients
1 Cup All Purpose Flour
1/2 Cup (4 ounces/113 grams) Butter, softened – I use unsalted
1 Cup Finely chopped Toasted Pecans
3 Tablespoons Granulated Sugar
1 Teaspoon Pure Vanilla Extract
1 Cup Powdered Sugar for rolling
The full recipe is on the Jenny Can Cook website
Easy Christmas Pecan Balls
www.JennyCanCook.com/recipes/easy-christmas-pecan-balls/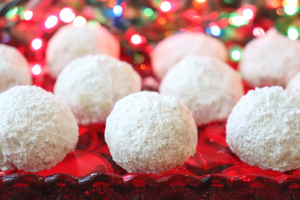 This is the easiest recipe for snowball cookies. No mixer… One bowl… Stupid easy. Anyone can make these holiday favorites.
Easy Christmas Pecan Balls Recipe
No Bake Mini Cheesecake Bites
What's For Din?

NO BAKE Mini Cheesecakes with Strawberry Topping
*Makes 12 Mini Cheesecakes – Double the recipe for 24*
Ingredients
1 Package Graham Crackers (About 10 Sheets)
5 Tablespoons Butter, Melted
1 Tablespoon Sugar
2 8-Ounce Packages of Cream Cheese, Room Temperature
7 Ounces Sweetened Condensed Milk
3 Teaspoons Fresh Lemon Juice
1 Teaspoon Vanilla Extract
¼ Teaspoon Lemon Zest
Topping:
¼ Cup Fresh Strawberries, Chopped
¼ Cup Strawberry Preserves or Jam
Instructions
Prepare a cupcake pan with cupcake liners and spray with nonstick cooking spray.
In a food processor, blend graham crackers until they are a sand like consistency. Add sugar and melted butter and mix well. The consistency should be like wet sand and easily pack-able.
Add 1 Tablespoon of the mixture to each cupcake liner. Press down firmly using fingers or a measuring cup. Place in freezer for 10 minutes.
In the bowl of a standing mixer, beat room temperature cream cheese until smooth and light. Add sweetened condensed milk, lemon juice, vanilla, and lemon zest. Beat until well combined.
Pipe the filling into the mini crusts and smooth the tops with the back of a spoon.
Cover and refrigerate overnight to set.
Once set, remove the paper liners. (If they are not coming off, freeze the cheesecakes for 30 minutes to help the removal process.)
In a separate bowl, combine chopped strawberries and strawberry preserves. Use a dollop to top the cheesecakes and garnish with a fresh strawberry.
Refrigerate until ready to enjoy!
Mini Pizza Bites
SoDelicious

These clever mini pizza bites are a tasty hybrid between savory muffins and pizza. We're using mini tortillas for the cups and an impressive array of ingredients for the stuffing of such small pizzas: two types of cheese, marinara sauce, salami, chili flakes and oregano.
The full recipe for the Mini Pizza Bites is on the SoDelicious website.
www.SoDelicious.recipes/recipe/Mini-Pizza-Bites/
Ingredients
Pepper
1 Teaspoon Chili Flakes
1 Teaspoon Dried Oregano
Salt
3 Tablespoons of Parmesan, Grated
1 Cup Marinara Sauce
2 Tortillas
Vegetable Oil
1 Cup Low Moisture Mozzarella, Grated
6 Salami Slices
Spring Onion, Finely Chopped (For Garnishing)
Raven Boys' Pizza Recipe Postcard 50% Off With Code 50OffTOPSALE
Raven Boys' Pizza Recipe Postcard 50% Off With Code 50OffTOPSALE
Featuring an original digital illustration and recipe of the Raven Boys' favorite pizza in Maggie Stiefvater's young adult novel The Raven Boys.
Raven Boys' Pizza Recipe Postcards On Zazzle
Merry Christmas Wreath Sugar Cookie With Custom Message 20% Off With Code 50OFFTOPSALE
Merry Christmas Wreath Sugar Cookie With Custom Message 20% Off With Code 50OFFTOPSALE
Cheerful whimsical hand-drawn chalk art style seasonal Christmas cookies with casual hand-written typography, floral wreath with laurel and holly in retro red and green. Personalize it with your name or custom greeting. Click Customize It to change the background color. Family-friendly design is great for kids and adults. Make your festive dessert snacks fun and memorable this year, and don't forget to leave a few out for Santa. Cute, colorful and bright, delightful modern and stylish way to express old fashion warm wishes for happy winter holiday celebrations with trendy retro rustic charm.
Merry Christmas Wreath Sugar Cookies With Custom Message