Happy Halloween!
Halloween Read Along Story Videos For Children On YouTube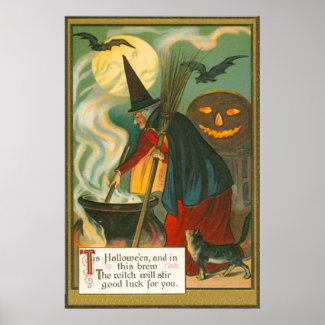 Good Luck Brew Witch Broom Cauldron Jack O Lantern Bat Cat Posters On Zazzle
From Seed To Pumpkin – Kids Stories Read Aloud Childrens Read Along Fun Stories Play
Find Me At Fun Stories And Play

Book Summary:
Pumpkins can be baked in a pie or carved into jack-o'-lanterns, and pumpkin seeds can be roasted for a healthy snack. But how does a tiny seed turn into a big pumpkin? Grade Level: Pre K – 2
The Biggest Pumpkin Ever
Lights Down Reading

The Roll Away Pumpkin Read Aloud ~ Bedtime Story Read Along Books ~ Kids Books Read Aloud
Grandma's House
https://www.youtube.com/watch?v=N2vsmeFEt60
Oh No! Marla's Pumpkin is rolling away! What happens as it travels along? Can Marla stop her Roll Away Pumpkin? Listen as Gma reads this fun story and find out what happens to the Roll Away Pumpkin!
The Night Before Halloween Read Aloud ~ Halloween Stories for Kids ~ Children's Halloween Book

The Night Before Halloween is a great Halloween story for kids! Little monsters and goofy goblins take center stage in this silly, spooky spin on Clement C. Moore's beloved poem. But what will happen on Halloween when the monsters come face to face with human trick-or-treaters.
Turkey Trick Or Treat Halloween StoryTime ~ Halloween Stories Read Aloud
Grandma's House

Everyone loves Halloween candy—even Turkey. But how can he and his barnyard friends get any when the farmers give it out only to children? With a costume, of course! As his pals look on, Turkey comes up with one clever costume after the next. Each trick gets better and better…but will Turkey and his friends end up with any treats?
Bonaparte Falls Apart Read Aloud ~ Halloween Stories for Kids ~ Halloween Story Read Along Books

Bonaparte is having a tough time. It's hard for this young skeleton to just hang loose when he can't keep hold of himself. When he plays catch, his throwing arm literally takes a flyer. Eating lunch can be a real jaw-dropping occasion. How can he start school when he has so many screws loose? Luckily, Bonaparte hit the bone-anza when it came to his friends. Franky Stein, Black Widow, and Mummicula all have some boneheaded ideas to help pull him together. But will it be enough to boost his confidence and get him ready for the first day of school? Read along as Grandma reads Bonaparte Falls Apart.
Witch Broom Cauldron Jack O Lantern Bat Cat Poster On Zazzle
31% Off With Code SPOOKYSALE22
Witch Broom Cauldron Jack O Lantern Bat Cat Poster On Zazzle
31% Off With Code SPOOKYSALE22
Good Luck Brew Witch Broom Cauldron Jack O Lantern Bat Cat Posters On Zazzle
Summer Bouquet Tote Bag On Threadless 25% Off $14.95 Was $19.95


This is a pretty Summer Bouquet tote bag on the Threadless website. Here's a bouquet to celebrate the days getting longer, the breeze getting warmer and the iced coffees getting brewed. This print looks great on a tee shirt to complement your floral phone case, or on a beach towel while you soak up the sun. Thie pretty tote bag is 100% spun polyester with cotton web handles. The Summer Bouquet design is printed on both sides. The tote bag is machine washable. The tote bags are available in three sizes. The Summer Bouquet tote bag is in AnArielleShop on Threadless. Click the tote bag image or the link to see more information or to buy a tote bag.
Summer Bouquet Tote Bag On Threadless
Free Passive Income With Uvioo Video Sharing
You can earn money sharing videos with Uvioo. It is very easy to earn with Uvioo. Membership is free. After you join you earn money by sharing videos with Uvioo links. Your referral ID is added to a video link. You share the videos and you earn money. You'll also earn for referrals. This is a Uvioo video link for the Bonaparte Falls Apart video. If you click the link you can see the Bonaparte Falls Apart video on Uvioo. You can join Uvioo there and you can start earning money sharing videos.
Bonaparte Falls Apart Read Aloud ~ Halloween Stories for Kids ~ Halloween Story Read Along Books
www.Uvioo.com/watch?v=Vp29y9NgZaw&m=telework