National Grammar Day
Punctuation Collection Coaster Set Choose Any 6 Punctuation Designs!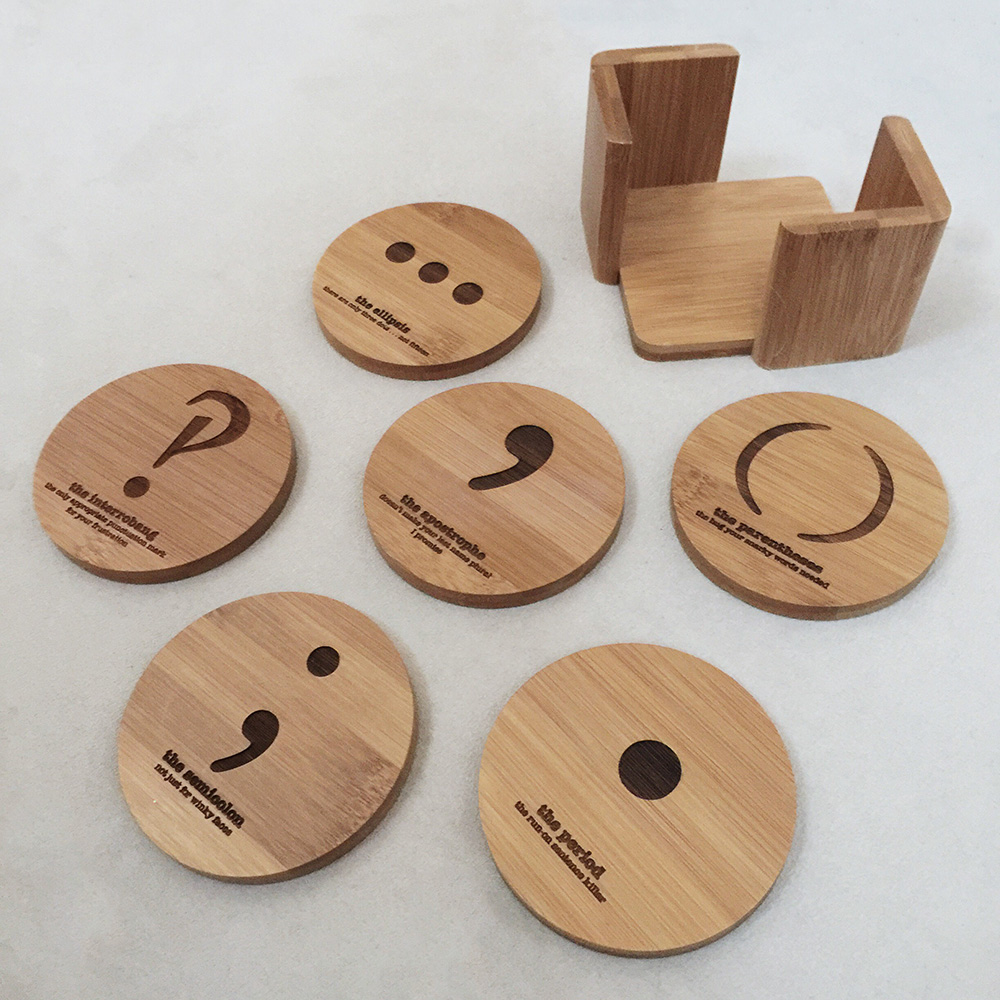 This is for a set of 6 bamboo coasters with a holder. They are laser-engraved with your choice of punctuation designs. There are punctuation designs for these punctuation marks:
Ampersand Apostrophe Asterisk Braces Brackets Colon Comma Dash Ellipsis Exclamation Point Hyphen Parentheses Period Question Mark Quotation Marks Semicolon
Punctuation Coaster Set With Holder On GrammaticalArt
National Grammar Day is celebrated on March 4th every year. You do have good grammar and you do want to celebrate it, don't you? Then celebrate your good grammar on this national grammar holiday. Pay attention to your grammar on Grammar Day and post on social sites with #NationalGrammarDay. This grammar holiday rates 2 Giftys on Giftypedia. You can find a Punctuation Collection Coaster Set, I'm Silently Correcting Your Grammar Buttons, a Nouns Grammatical Quiz Video, 10 Ways To Celebrate National Grammar Day, There Their They're Words Shirts, grammar quizzes on the Women.com and Grammar-Quizzes.com sites and Grammar Day on holiday websites in this post. Post about Grammar Day on social networks with #GrammarDay hashtags.
I'm Silently Correcting Your Grammar Button
I'm Silently Correcting Your Grammar Button
I'm Silently Correcting Your Grammar Button
English Grammatical Quiz Nouns Video Mister Teach Channel

10 Ways To Celebrate National Grammar Day

www.WritingForward.com/news-announcements/news-and-announcements/10-ways-to-celebrate-national-grammar-day
In Grammar Girl's own words, "Language is something to celebrate, and March 4 is the perfect day to do it. It's not only a date, it's an imperative: March forth on March 4 to speak well, write well, and help others do the same!"
There Their They're Words Shirt
There Their They're Words Shirt
There Their They're Words Shirt
Grammar Quizzes On Women.com

Women.com/angie/grammar-mistake-quiz-102218
Grammar Quizzes On Grammar Quizzes
www.Grammar-Quizzes.com/
Grammar-Quizzes On Facebook
www.Facebook.com/grammarquizzes
Grammar Quizzes On Pinterest
www.Pinterest.com/search/pins/?q=grammar+quiz
The Nine Parts Of Speech Poem

Grammar Poems
If you are looking for grammar poems you may find some with this link to the Poem Searcher website. The poems are in an image file format.
www.PoemSearcher.com/search?q=grammar
Grammar Poems On Poem Searcher
Grammar Day On Holiday Websites
Grammar Day On Days Of The Year
www.DaysOfTheYear.com/days/grammar-day
National Grammar Day On Giftypedia
www.Giftypedia.com/National_Grammar_Day
National Grammar Day On National Day Calendar
NationalDayCalendar.com/national-grammar-day-march-4/
National Grammar Day On National Today
NationalToday.com/national-grammar-day
Holiday Activities, Crafts, Learning Websites
These websites have activities, crafts and learning materials about many subjects. The sites may have activities and information about grammar, Grammar Day and other holidays.
Activities For Children
www.AllFreeKidsCrafts.com
www.FunFamilyCrafts.com
www.KidActivities.net
www.PlayIdeas.com
Educational Themes
www.EdHelper.com
www.EducationWorld.com
Poetry For Kids
www.PoetryAw.net
Animated Educational Videos For Kids
www.BrainPop.com
Grammar Gifts, Holiday Gifts, Pisces Gifts and March Gifts On Zazzle
Zazzle has lots of fun gifts to help you celebrate holidays. You can send boxes of chocolates, cookies and candy and other gifts to people from Zazzle. Zazzle has many kinds of mugs, beer steins and commuter cups. You can buy t-shirts, hoodies, leggings and hats. You can get phone cases and mouse pads. You can get watches, clocks and lamps. You can add photos and other images and text to create unique personalized gifts.
Grammar Gifts On Zazzle
Stationery Gifts On Zazzle
Writing Gifts On Zazzle
Cards On Zazzle
Baby Gifts On Zazzle
Holiday Gifts On Zazzle
Pisces Gifts On Zazzle
March Gifts On Zazzle
Candy Gifts On Zazzle
Chocolates Gifts On Zazzle
Cookie Gifts On Zazzle
Free Click Donations Website
This Non Profits website has links to many charities and causes you can support by making free click donations. It is very easy to do. You click the site, click to support the site and the cause or charity gets a free donation. You can give free click donations to many causes at this website.
www.TheNonProfits.com
Click To Make Free Donations To Many Causes
www.TheNonProfits.com