National Fritters Day December 2, 2019
National Fritters Day is a food holiday that is celebrated on December 2nd every year. Fritters can be made by frying battered fruit, veggies or meat. This post has links to National Fritters Day Ecards, a Banana Fritters Recipe, a Banana Stress Tip, 50 Delicious Fritter Recipes cookbooks, activity websites, Zazzle gifts and Fritters Day T-Shirts. National Fritters Day has a 2 Gifty rating on Giftypedia. Post about Fritters Day on social sites with #FrittersDay or #NationalFrittersDay.
National Fritters Day Ecard On UltimateEcards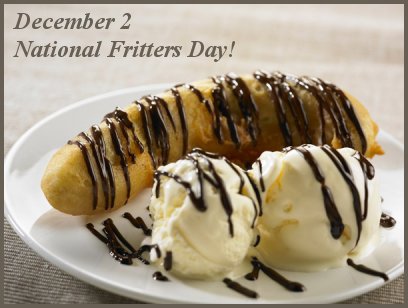 That is a National Fritters Day Ecard on the Ultimate Ecards website. Click the image or the link to see the ecard or for more information.

National Fritters Day Ecard On UltimateEcards
It's So Easy Banana Fritters Recipe On Food.com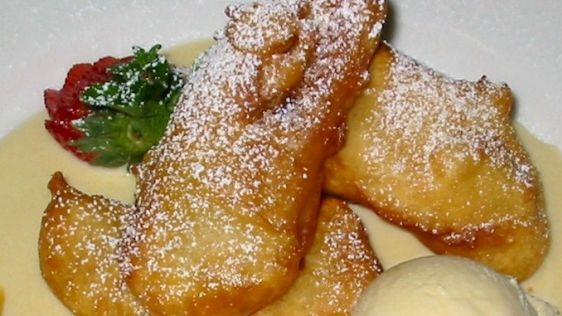 These Banana Fritters will make a fast simple dessert. Choose firm bananas for this Easy Banana Fritters Recipe.
www.Food.com/recipe/its-so-easy-banana-fritters-260973
Stress Tip Eating Bananas Is A Natural Cure On Noodles4Thoughts

50 Delicious Fritter Recipes Cookbook On Amazon $2.99 Kindle $8.99 Paperback

Easy Fritter Cookbook: 50 Delicious Fritter Recipes (Fritter Recipes, Fritter Cookbook Book 1) Chef Maggie Chow
Get your copy of the best and most unique Fritter recipes from Chef Maggie Chow! Come take a journey into the delights of easy cooking. The point of this cookbook and all her cookbooks is to exemplify the effortless nature of cooking simply. In this book we focus on Fritters. The Easy Fritter Cookbook is a complete set of simple but very unique Fritter recipes. You will find that even though the recipes are simple, the tastes are quite amazing. Remember these recipes are unique so be ready to try some new things.
Here is a Preview of the Recipes You Will Learn: Lemon and Chives Fritters, Indian Fritters I, Super Fruit Fritters, Canadian Style Fritters and much, much more!
This Fritter Recipes Cookbook is available in Kindle $2.99 and Paperback $8.99 formats on Amazon.
50 Delicious Fritter Recipes Cookbook On Amazon
National Fritters Day On Holiday Websites
Fritters Day On Days For Kids
www.DaysForKids.com/wp/index.php/2015/12/02/1202-fritters-day/
Fritters Day On Days Of The Year
www.DaysOfTheYear.com/days/fritters-day/
National Fritters Day On Giftypedia
www.Giftypedia.com/National_Fritters_Day
National Fritters Day On National Day Calendar
NationalDayCalendar.com/national-fritters-day-december-2/
National Fritters Day On Punchbowl
www.Punchbowl.com/holidays/national-fritters-day
Holiday Activities, Crafts, Learning Websites
These websites have activities, crafts and learning materials about many subjects. The sites may have activities and information about fritters, Fritters Day and other holidays.
Activities For Children
www.AllFreeKidsCrafts.com
www.FunFamilyCrafts.com
www.KidActivities.net
www.PlayIdeas.com
Educational Themes
www.EdHelper.com
www.EducationWorld.com
Poetry For Kids
www.PoetryAw.net
Animated Educational Videos For Kids
www.BrainPop.com
Fritters Gifts, Holiday Gifts and December Gifts On Zazzle
Zazzle has lots of fun gifts to help you celebrate holidays. You can send balloons, cookies and candy and other gifts to people from Zazzle. Zazzle has many kinds of mugs, beer steins and commuter cups. You can buy t-shirts, hoodies, leggings and hats. You can get phone cases and mouse pads. You can get watches, clocks and lamps. You can add photos and other images and text to create unique personalized gifts.
Fritters On Zazzle
Stationery Gifts On Zazzle
Writing Gifts On Zazzle
Cards On Zazzle
Baby Gifts On Zazzle
Holiday Gifts On Zazzle
December Gifts On Zazzle
Sagittarius Gifts On Zazzle
Capricorn Gifts On Zazzle
Candy Gifts On Zazzle
Chocolate Gifts On Zazzle
Cookie Gifts On Zazzle
Fritters Day Women's T-Shirts On Zazzle 20% Off With Code BLKFRIDAYNOW
Second December – Fritters Day T-Shirts on Zazzle
Fritters Day Women's T-Shirts On Zazzle 20% Off With Code BLKFRIDAYNOW
Second December – Fritters Day T-Shirts on Zazzle
These Fritters Day T-Shirts are available in many sizes and colors for men, women and children. You can add text or images to make custom gifts.
Second December – Fritters Day T-Shirts On Zazzle
Free Click Donations Website
This Non Profits website has links to many charities and causes you can support by making free click donations. It is very easy to do. You click the site, click to support the site and the cause or charity gets a free donation. You can give free click donations to many causes at this website.
www.TheNonProfits.com

Click To Make Free Donations To Many Causes
www.TheNonProfits.com