Double Chin Reducers #DoubleChinReducers #LookPrettierFast
Lift And Tighten Your Face, Chin, Cheeks And Neck With A Face Slimming Mask
The mask will reduce double chins, improve facial circulation and tighten the neck, cheeks and chin. This kind of mask is known as a face slimmer mask. The masks are also known as face lift masks and they will improve your appearance considerably.
This is an effective and comfortable face slimming mask! Tighten your sagging skin on the face and neck with simple physical methods. Result? Eliminate sagging skin, tighten skin and shape facial lines, improve face wrinkles and double chin, prevent sagging cheeks. Create a perfect V-line chin for you. You can see a noticeably firmer chin line after one use!
Actual Facial Lifting!
This upgraded double chin reducer band is designed for the genuine lift you need, actually works with you! The soft and comfortable material is for all skin types. The adjustable velcro design and good elasticity allow you to easily adjust the band to fit your face. There is no skin irritation, no allergies and no bad smell!
Upgraded Design With Graphene
This upgraded face lift belt with graphene is more effective than ordinary masks! The addition of graphene can improve blood circulation, strengthen the skin's new generation and help restore the firmness and elasticity lost due to aging. The mask will help you get back young and healthy skin! These bands would make great gifts for women and men.
Reusable And Easy To Use
The reusable face slimmer strap is durable and can be used repeatedly. The mask is suitable for men and women. This V line chin strap is easy to slim, wearing for 30 – 40 minutes for each time, while you are reading, working, studying or doing any other activities. Simple facial lifting every day can do a lot! Regular use can achieve long-lasting results. Just 30 minutes a day with this product and you'll see an obvious transformation.
This mask is a great product for chin tightening and neck firming. The mask will improve blood circulation and help to restore the skin's firmness and elasticity.
One size fits all face shapes and genders. Velcro strips can adjust the face strap and chin straps to your liking. The face shaper only weighs 1.2 ounces. The chin straps are scented. Each chin strap has an appealing scent of perfume so you don't experience any discomfort of smelling textile materials. The pink color face slimming strap has graphene. The orange color face slimming strap does not have graphene. The usage and care instructions are included. Click the face slimmer mask image or the link for more information or to purchase.
Face Slimmer Mask Graphene Or NonGraphene
Delicate Facial Thin Mask Slimming Skin Care Belt $9.99 On Walmart
Shape And Lift Reduce Double Chin Face Mask Face Slimming Band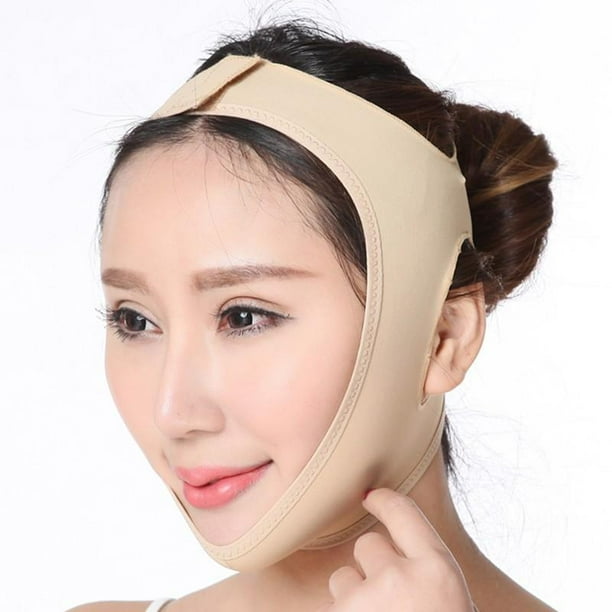 This slimming face mask is a simple way to improve your face shape. The mask is a mild treatment for all kinds of skin. The mask will not cause an allergic reaction. There are no side effects. The face slimming mask is safe to use.
The face slimming mask has a positive effect on skin. The mask promotes blood circulation and tightens the neck, cheeks and chin. The mask shapes the perfect V line chin. The mask is great for face slimming.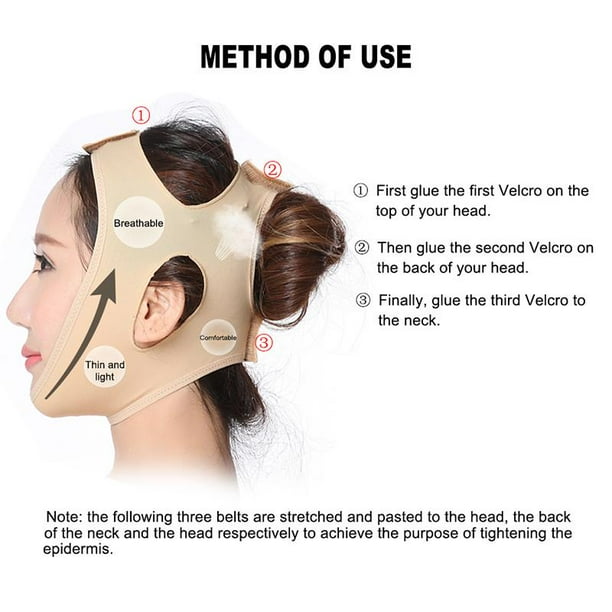 The slimming mask is easy to wear with a velcro closure. The mask is convenient and easy to use. You may wear the mask for 30 to 60 minutes while reading, watching TV, sleeping, doing housework, etc.
The mask is made of Lycra material that is elastic, breathable and comfortable. The mask is durable and friendly to skin. The facial mask is ultra thin, elastic and antibacterial. The mask can be washed with warm water. Just use a mild detergent and then dry naturally.
These Face Slimming Masks are available on Walmart. The masks are available in three sizes: Medium, Large and Extra Large. Click a mask image or the link below for more information or to purchase. The mask is $9.99 on Walmart.
Facial Slimming Mask $9.99 On Walmart
Facial Slimming Mask On Walmart