The Apple Turnover Day holiday is celebrated on July 5th every year. Apple Turnover Day has a 2 Gifty rating on the Giftypedia holiday website. Apple Turnovers are frosted apple pastries that may be served for breakfast, brunch, lunch, snacks or desserts. When you post about Apple Turnover Day on social networks use #AppleTurnoverDay or #NationalAppleTurnoverDay hashtags.
Apple Turnover Day On Giftypedia
www.Giftypedia.com/National_Apple_Turnover_Day
Apple Gifts On Zazzle
Apple Gifts On Zazzle
Apple Breakfast Wedges Recipe For Apple Turnover Day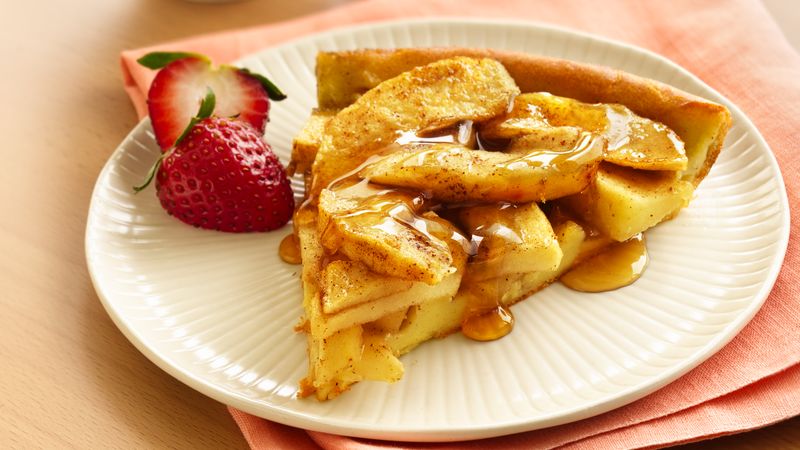 There is a recipe on the Betty Crocker website for an apple breakfast or brunch treat. The breakfast treat looks like apple pie without an upper crust and it is called Apple Breakfast Wedges. The wedges can be eaten with powdered sugar sprinkled on them and maple syrup drizzled on them. The recipe only requires 15 minutes of prep time then the Apple Breakfast Wedges are baked. The Apple Breakfast Wedges are made with two medium cooking apples that are peeled and thinly sliced. Bisquick is used to make the dough crust. You probably have the ingredients in your kitchen. The recipe makes 6 servings. Click the Apple Breakfast Wedges image or the link to see the recipe on the Betty Crocker website.
Apple Breakfast Wedges Recipe On Betty Crocker Website
Apple Turnover Comic

Funny Apple Pie Novelty Pillow On Zazzle 20% Off
Funny Apple Pie Novelty Pillow On Zazzle
This is a fun novelty apple pie home decor pillow with a graphic image of an actual apple pie printed on both sides of the cover. The pillow will add some character to any room in your home. The pillow has a hidden zipper enclosure. A synthetic-filled insert is included in the package. This apple pie pillow is made in the USA. Thr apple pie pillow was designed for pie lovers, kids and foodies. Click the apple pie pillow image or the link to see more information or to purchase.
Funny Apple Pie Novelty Pillow On Zazzle
Bloglovin Blog Network And Blog Reader
GiftsNDays has many holiday comics, books, videos, art prints, greeting cards, t-shirts, hats, balloons, quizzes, fun facts and articles. You can see GiftsNDays posts on the Bloglovin Blog Network. Bloglovin is a large blog network and reader with more than ten million members. Membership is free. You can join Bloglovin and showcase your blog on the Bloglovin site. Click the link to see more GiftsNDays posts on the Bloglovin Blog Network.
www.Bloglovin.com/blogs/gifts-n-days-19707047
Apple Comic